Subscribe to our newsletter!
Don't want to miss out on the latest promotions, sales, giveaways, and product additions? Subscribe to our newsletter! First-time subscribers will also receive a free shipping discount code for their next order.
The offer to subscribe will pop up on your first visit to our site. If you close it, it will not show up again until cookies expire, or unless cookies for our site are cleared. A different browser can be used to access our site, and the pop-up will appear again.
There's a really easy way to subscribe, though, if you missed your chance with the pop-up. Simply visit this link (does not require a Facebook account): https://www.facebook.com/HealthyFamilyFoodsMB/app/100265896690345/?ref=page_internal—or visit our Facebook page and click "Sign up for our newsletter!"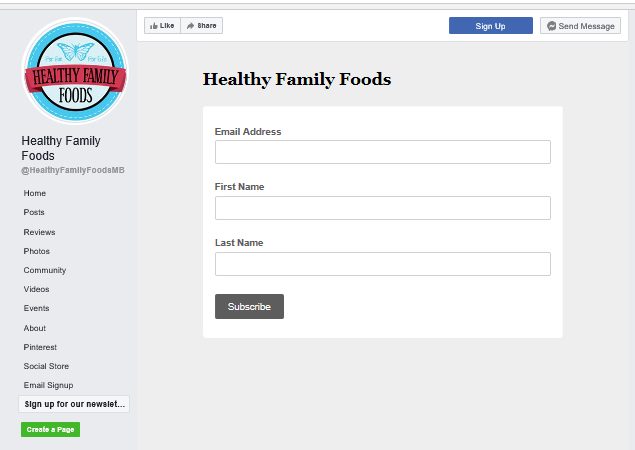 Enter your first name, your last name, and your email address, and click the Subscribe button. You'll receive an email asking you to confirm your subscription. After you have confirmed, you will receive a welcome email with your free shipping code. You will also begin to receive our email newsletters with sales, special offers, and more!
Happy shopping!
If you already subscribed via the pop-up and aren't getting the Welcome email with your code, please note that the Facebook link is instant, while the pop-up is not. You may try again with the Facebook link to override the first registration; otherwise, please contact us so we can check whether your email address has been registered into the system.